Travel to view the annual color change of the quaking Aspens!
The seasons, they are a-changing! The annual color change of our beloved quaking aspens is truly spectacular and must be experienced in person! Every year is slightly different as to when the intensity of the colors will reach their peak. Long-time locals will tell you is usually happens the weeks around September 22nd, and people travel to Aspen specifically to view this dramatic change.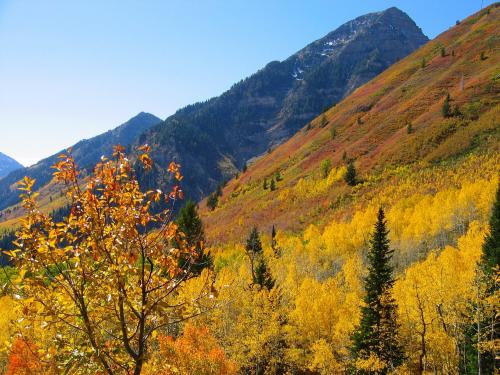 You can take a beautiful fall drive up Castle Creek Road to the Ashcroft ghost town for a self-guided tour. If you decide to make a day out of your Ashcroft tour, the Pine Creek Cookhouse is known for stunning views and fabulous al fresco dining.
The Catto Center at Toklat was once a family home of one of the most influential founders of Aspen Center for Environmental Studies. A visit to the site is a step back in time to the Oaxacan area of Mexico. The resident artist teaches the art of weaving and dyeing through daily demonstrations.
Or, enjoy an afternoon of viewing Hunter S. Thompson memorabilia on a lazy, site-seeing drive from Woody Creek to Lenado, Colorado. Stop in at Woody Creek Tavern – once a favorite hangout for Hunter S. Thompson and still a local's favorite!
In our opinion, one of the most stunning drives in all of Colorado is up and over Independence Pass to and from Twin Lakes. The Continental Divide is at the top of the pass and is a great spot for a photo opportunity.
Then, of course there is the drive up Maroon Creek to hop on the bus and see the breathtakingly beautiful Maroon Bells, one of the most photographed spots in the world. The Bells are accessible only by the public shuttle in September, so be sure to check the schedules in advance. Generally, the shuttle runs daily between 8am and 5pm in 20-minute intervals.
For those looking for more of an immersion experience, you can take an easy hike on trails around town, get in a classic trail run, or ride your mountain bike on Aspen Mountain.
Of course, since you are already surrounded by beauty when you arrive, you can simply enjoy the views from your Aspen vacation rental. Perhaps add a charcuterie board with locally sourced cheese and a lovely glass of wine.
Take a drive, catch a game, walk around town, or just relax. You can just see the seasons change right before your eyes.