1 Sep 2020
Our top 5 reasons to visit Aspen in October!
Town to Yourself
Fall in Aspen is one of my most favorite times of the year. We consider it "off-season."
It is the time for the locals to regain Aspen for a fleeting moment before the next season arrives. Gone is the hustle and bustle and playing "Frogger" with the tourists crossing the street without a second glance; the laid back Aspen vibe is a welcome reprieve.
It is a time to dine out with friends, meet for drinks, exchange funny stories, make plans for bike rides and hikes, and prepare for the upcoming winter.
It is a time to breathe. Aspen is alive with the rich, vibrant colors of fall – the leaves are a deep red, burnished orange, and a gilded golden yellow more beautiful than a pot of gold at the end of a rainbow. The trees, mountains, and sky shimmer and bask in the light of falling leaves and autumn colors. You awake to the fresh dusting of snow on the highest mountain peaks, smiling and knowing this is yet another brilliant color added to brighten our already perfect landscape. October in Aspen is here.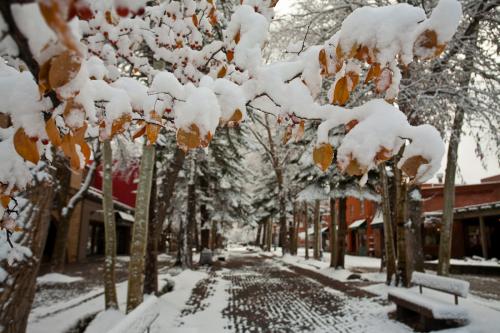 Riding Bikes in Town
Exploring Aspen by bike without the crowds and continuous game of car, people, and bicyclists dodgeball is a luxury. Imagine a beautiful fall day in the mid-60s with the wind blowing through your hair, cruising town admiring how the brick buildings in town perfectly match the reds, browns, and gold in the surrounding mountains. The city planners and architects sure put a lot of thought into the design and color palette of downtown Aspen. 
Your bike is your guide as you stop off for a game of mini golf at CP Burger, observe the dogs and kids frolicking in Wagner Park, enjoy cocktails at Bodegas, stop for a sweet treat at Paradise Bakery, or perhaps catch a musician charming the intimate groups on the pedestrian mall. Then the river lures you, and you venture off to Herron Park, the Rio Grande Trail, and the John Denver Sanctuary, all within a stone's throw of the Aspen core.
Affordable Lodging, Restaurant Specials, and Discounts
Aspen is known as a playground for the rich and famous. If you plan a trip to Aspen, be prepared to see some astronomical pricing.
But in the off season, we cater to the bargain shopper. Town is quiet in the fall; it is the time of year many restaurants and businesses close for a period to take a much needed vacation before the winter returns. The restaurants remaining open cater to the locals and visitors alike by offering discounted dining and happy hour specials. (However, these specials may be accompanied by limited selections and abbreviated menus.) Our world class, designer stores offer discounted pricing on the remaining summer merchandise in order to clear room for the upcoming winter season's clothing, accessories, and equipment. The major airline carriers also join in the discounting by offering affordable airfare to and from Aspen. It can be a lot easier to find available flights and seats to favorite destinations. Lastly, hotels, vacation rentals, property managers, hosts, inns, and bed and breakfasts offer super value rates. At times, rates are more than $400 off of a ski season rental property!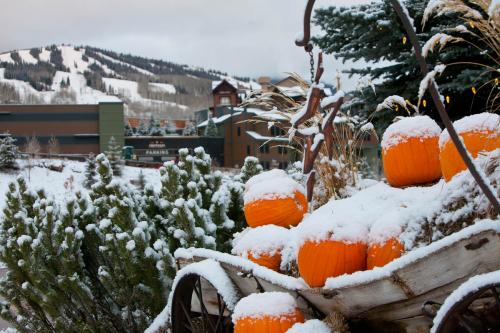 Aspen Center for Environmental Studies and Halloween
October is the time to delve into local traditions, the environment, and nature. The summer is a busy time full of events every weekend - if not every day! Fall is a time to unwind, relax, and appreciate your surroundings. But there are still events going on!
The Harvest Party at Rock Bottom Ranch is an annual family event. It is complete with hay rides, dancing, pie baking contests, and pumpkin carving contests. To minimize on the environmental impact, this is a car-free event. You must ride your bike to and from the event or take a shuttle. It is a fundraiser for environmental science education, particularly focusing on sustainable agriculture.
Staying true to our nature theme, the stars are mesmerizing and endless in the mountains. With so many clear Aspen nights, stars are explored monthly either at Hallam Lake or on top of Ajax Mountain. Our world and space is a wonderland. Plan to be amazed by a local astronomer, and take flight through the stars with your peers at one of these events in the off season.
Lastly, Halloween is for the young and the young at heart. It is a big event in Aspen and celebrated by everyone from the elementary school child to the local wine rep at the Grog Shop. The local venue Belly Up has a Halloween costume contest, and the traditionally "members only" Caribou Club opens its doors to the town for one night only on Halloween.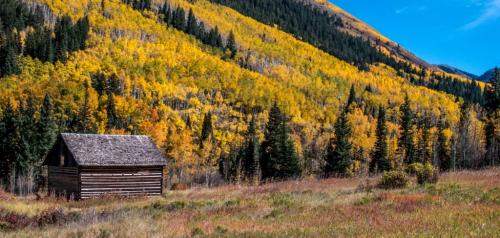 You Can Always Find a Parking Space
If at all possible, most locals avoid driving in downtown Aspen in the summertime. If driving downtown is a must, strategic planning is recommended. Defining the play by choosing the time, destination, path to said destination, and amount of quarters you have in your possession - it is all part of the process. A tried and true game plan is the best plan of attack. 
The amount of cars in Aspen quadruples over the summer months compared to the winter months when airplanes are the chosen form of transportation. In the summer, imagine finding a parking spot in an already limited amount of space. Prepare to drive around in circles for upwards of 20 minutes before finding a space to park. Once you park, you gamble with the parking police. Typically, you are so far away from your destination you wonder why you chose to drive after all.
Now, in October with fewer people in Aspen, you delight in the abundance of parking spots, embracing the small town feel that is so quintessentially Aspen.