1 Jun 2020
Aspen and the Roaring Fork Valley offer breathtaking scenery, nature in all its glory, unspoiled wilderness, pristine rivers and lakes, and year-round fly fishing. 
If we combine all of the above into one activity, then we have the beauty of the mountains of Colorado and the sport of fly fishing.
"Eventually, all things merge into one, and a river runs through it." Norman Maclean    
Our valley offers prime fly-fishing spots on world class waters known for reeling in the big one! The three rivers that run through our valley are the Roaring Fork River, the Frying Pan River, and the Crystal River - and they all join up with the Colorado River. If fly fishing is your jam or if you are up for an adventure, keep reading.
The first step is securing a fishing license. Please click HERE to purchase a fishing license for about $10.00 - it is good for a year.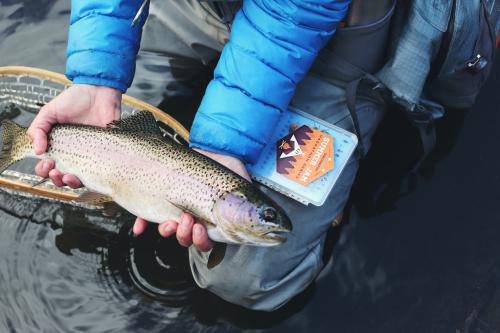 There are several varieties of trout in our local waters, and they are plentiful. The Cutthroat (easy to spot with a red slash across the jaw) is the only species native to Colorado. The Rainbow Trout is the most common fish to catch and has a rainbow mark. The Brown Trout spawns in the fall and become the most aggressive biting fish during this time. The Cut Bow is a cross between the Cutthroat and the Rainbow Trout. It has the markings of the Rainbow Trout with the red slash of the Cutthroat.
The Roaring Fork River is catch-and-release, on the Frying Pan River you can keep two brown trout under 14 inches, and in the high country, just about anything goes. The Frying Pan has gold medal status between Ruedi Reservoir and the confluence of the Roaring Fork River. In order to qualify as Gold Medal water, the area must be able to produce a minimum of 12 "quality trout" (14+ inches) per acre.
Fishing is year-round in Aspen and the valley. For those wanting to ease into the spring and summer season, March and April are great months to fish. Fishing provides you the serenity you desire while observing the black and white world of winter fade into color and new growth. The fish are very active and hungry from the long, cold winter months and bite from top to bottom as the snowmelt begins and the river water rises. The mayflies return signaling the start of spring. Hatching, spawning and receding waters make for sublime summertime fishing. Fall fishing with the cooler nights, symphony of changing colors and afternoon mayfly hatches preludes the return of winter. Winter on the river is a beautiful place to be. Aspen is one of the few places you can ski in the morning and fly fish in the early afternoon.
Each of the towns up and down the Roaring Fork Valley offer professional fly-fishing guides, supplies and services.